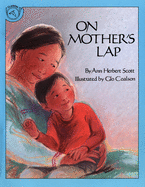 On Mother's Lap
(written by Ann Herbert Scott, illustrated by Glo Coalson) was another
book
I bought for Defne during my pregnancy with Derin.
This book tells the story of a little boy who, while curled on his Mother's lap, wants to bring all sorts of other objects up with him, until the baby wants to be included. But is there enough room on Mother's lap?
It's a great book to read with a little one on your lap. It's not easy sharing your mum and being the big brother/sister, but this book shows that it's possible for all to get along and enjoy figuring out how to do it.
Micheal was sitting on his mother's lap.
Back and forth,
back and forth, they rocked.
"Let's get Dolly," said Micheal.
Soon Micheal and Dolly were on Mother's lap.
Back and forth
back and forth, they rocked.
Which books are you reading with your little ones these days?
I would love for you to share your books with us. New here? Please check out this
page
for more information about Book Sharing Monday.
Don't forget to come back to visit what other people had to share.
Say hello, discover new books and new blogs!
The link stays open until the following Sunday, so don't worry if you don't manage to post your book on Monday.Please add your permalink below and leave a comment after linking up.
Thanks.